Camping on the river Tarn
ENJOY THE SITUATION OF THE CAMPSITE BY THE RIVER
Water is everywhere in Lozère!
At camping Le Pont du Tarn, you will have direct access to the Tarn.
Natural beaches of sand or pebbles, young and old, will be able to enjoy the joys of swimming in Lozere in complete safety.
Our campsite offers in the middle of nature, two natural and preserved swimming spots. The rhythm of the Tarn river shapes the beaches and their surroundings and everyone will be able to put down their towel, swim, play, fish for unforgettable moments of relaxation and pleasure.






DISCOVER THE TARN RIVER AND ITS SWIMMING PLACES
Near the old and historic Pont du Tarn, the sandy beach, bordered by flat rocks, invites you to laze in the sun. Swimming, in these crystal clear waters, is accessible to all, trout and other fish can be discovered.
Calm waters and natural baths will enchant you!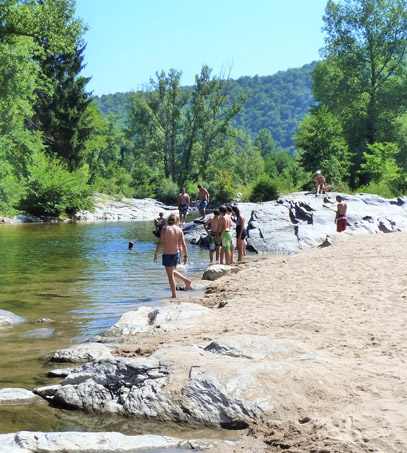 At the end of the campsite, a havre of freshness and relaxation is offered to you. Well shaded by the trees of the forest, a green carpet invites you to gentle moments of rest lulled by the music of the Tarn and the birds.
Beach ideal for children, a vast shallow part, will allow endless water games with the family. The deeper part will allow safe swimming or sailing on an inflatable boat or other floating games.
Everywhere in Lozère, you can find the swimming spot that suits you! Lozère is the department of a thousand springs and a multitude of rivers runs through gorges and mountains: The Tarn, The Tarnon, The Mimente, The Jonte, The Bramont, The Lot, The Truyère… As you walk around, it will always be possible to refresh yourself.
Our smart advice: never go for a walk without your swimming costume!
Our swimming pool and services at the campsite